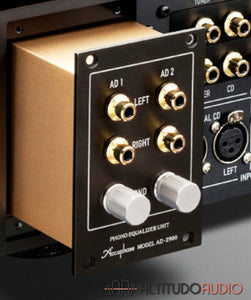 Accuphase
AD-2900
Regular price
$0.00
$0.00
Unit price
per
Shipping : FREE in Canada
We are an Accuphase Full Line Authorized Dealer. Accuphase does not allow dealers to post pricing on websites. 
Please contact us for pricing as well as additional information on any product of interest.
Thank you.
AD-2900 is the dedicated phono equalizer unit. Analog records can be reproduced with high quality by installing AD-2900 in a rear-panel slot. The AD-2900 features separate input circuitry for MC and MM cartridges to ensure optimum matching and realize outstanding S/N ratio. 2 sets of analog-player input jacks, the AD1 and AD2 are equipped, and their selections are switchable with the INPUT selector of pre-amplifiers.
Contains equalizer units with boards using glass cloth fluorocarbon resin with totally separated left / right channels

Ideal MC/MM independent input circuit to achieve high noise performance

Differential-style equalizer for high-precision RIAA characteristics

Two input terminals to connect up to two tone arms

Functions that can be operated from the front panel

Memory settings for each input terminal

Robust aluminum case to shield against external noise

MC Gain : 64 / 70 dB switching Input impedance : 10 / 30 / 100 / 200 / 300 ohms switching

MM Gain : 34 / 40 dB switching Input impedance : 47 kilohms ratedDifferential amplifier circuit with ultra low noise bipolar-transistors for MC cartridges.
Compatibility with other pre-amplifiers (C-2820/C-2420 etc)

AD-2900 is
It can also be used for C2850/C-2820/C-2810/C-2800/C-2450/C-2420/C-2410/C-2400/C-290V/C-290.

| | | |
| --- | --- | --- |
| Input | Input Sensitivity | Input Impedance |
| MC | 64/70dB | 10/30/100/200/300Ω |
| MM | 34/40dB | 47kΩ |
Regardless of the preamplifier model, the gain is MC: 64/70 dB and MM: 34/40 dB.

Please note that it is different from the display of the gain switching switch when mounted on the following models.
C-2820, C-2810, C-2800,C-2420、C-2410、C-240

Load impedance that can be selected while the MC input varies depending on the model of the preamplifier.

| | |
| --- | --- |
| Model | Gain |
| C-2900 | 10/30/100/200/300Ω |
| C-2850/C-2820/C-2450/C-2420 | 10/30/100/300Ω |
| C-2810/C-2800/C-2410-C-2400/C-290V/C-290 | 10/30/100Ω |
---
Share this Product
---