Cocktail Audio
COCKTAIL AUDIO N15D HIFI NETWORK ADAPTER
Regular price
$999.00
$0.00
Unit price
per
COCKTAILAUDIO N15D
HiFi Network Adapter, Music Storage & Player with Music Database, Streamer, USB DAC and much more. Give networking capability to your existing DAC or Amplifier.
HIGH PERFORMANCE SYSTEM RESOURCES
Based on powerful dual core ARM Cortex A9 running at 1.0GHz
UPnP(DLNA) Server/Client/Media Renderer/Samba Server/Client are supported
Super Sound Quality created by Sabre ES9018K2M Reference DAC built-in
2.5 inch HDD or SSD storage deck is ready
Giga Fast Ethernet LAN built-in
High speed internal data transferring
HI-RES AUDIO FORMATS ARE SUPPORTED
24Bit/192KHz HD WAV, FLAC are supported
DSD64, DSD128, DSD256 files are supported
Support MQA file
OTHER GREAT FEATURES & FUNCTIONS
Dedicated USB Audio Class 2.0 Input is ready
Major Online Muisc Services like TIDAL Qobuz, Deezer, Napster, Airable are integrated
Apple Airplay is supported
Intuitive, feature rich and speedy remote control app for iOS and Android devices
Give networking capability to your existing DAC & Amplifier
Roon Ready is supported
MOST OF MUSIC FILE FORMATS INCLUDING HI-RES FORMAT ARE SUPPORTED
Hi-res music files like DSD file(DSD64/128/256), DXD(24Bit/352.8Khz), 32Bit/384Khz PCM file and 24Bit/192Khz HD WAV/FLAC files are supported.
HIGH PERFORMANCE SYSTEM RESOURCES
Dual Core ARM Cortex A9 processor running at 1.0GHz.
Integrating commerical version of NTFS/HFS+ file system and EXT4 Linux file system into the N15D. This wll lead to wonderful performance for backup and file management functions.
Giga Fast Ethernet LAN built-in.
HIGH QUALITY ANALOG OUT TERMINAL FOR HIGH QUALITY SOUND
To guarantee lossless signal transmission and high quality sound, N15D offers a fair of high quality analog out terminal which is powered by ESS Sabre DAC ES9018K2M cooperating with XMOS 32Bit/500MIPS Digital Signal Processor.
CONVENIENT CONTROL WITH CUSTOMIZED APP(NOVATRON MUSIC X) AND WEBINTERFACE
Customized App for the N15D, named as 'NOVATRON Music X' is also available. You can control full range of N15D functions via this App remotely with your Android and iOS mobile devices. NOVATRON Music X is available at Google Play Store and Apple App Store.
Additionally, WebInterface is also available. Try using it with your PC, it will be great tool to control the N15D via your PC remotely.
VERSATILE NETWORKING FUNCTIONS
Connect the N15D to your network to stream music to and from other devices, listen to cloud based music services and control remotely using mobile devices.
Control remotely using mobile devices including: iPhone, iPad and Android smartphones and tablets with customized App, NOVATRON MusicX.
The N15D is a UPnP (DLNA) Media Server& Renderer so you can stream music to and from other compatible devices (e.g. WiFi speakers).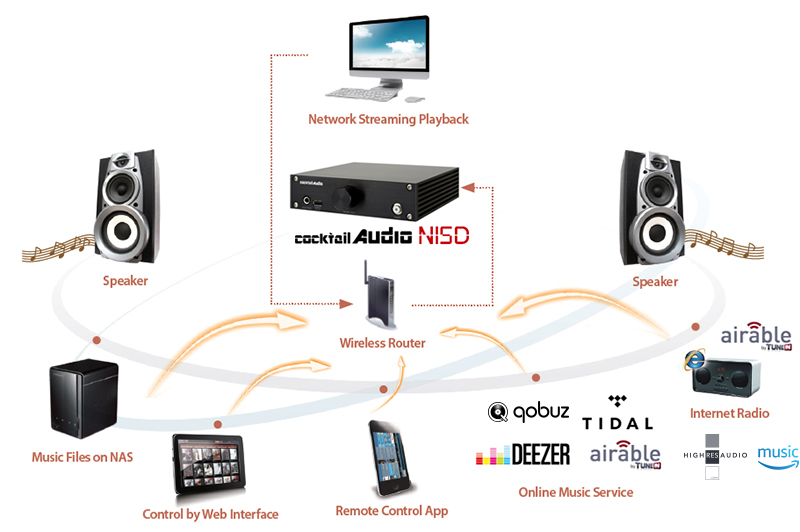 Use the cocktailAudio Web Interface to control the N15D and manage the Music DB remotely.
Access online music services like Qobuz, TIDAL, Deezer and Airable.
Manage your files (Copy, move or delete) over a network thanks to support for Samba.
FAMOUS ONLINE MUSIC SERVICES INTEGRATED INTO THE N15D
Famous online music services like qobuz, TIDAL, Deezer, Napster are available at the N15D. You can play them directly with the N15D conveniently if you have its user ID and password.
MILLIONS OF INTERNET RADIO STATIONS AND PODCASTS ARE ALSO PROVIDED WITH FREE.
This is powered by Airable Internet Radio server. You can record iRadio music also with high qualtity of audio via the N15D's recording function
STORAGE FOR MUSIC DATABASE
You can intall 2.5inch hard disk drive or solid-state drive(SSD) into N15D. And, you can build your own Music Database via N15D's 'Import to DB' function.
MAJOR TWO(2) FUNCTIONS OF N15D
USB DAC(Digital to Analog Converter)
You can connect N15D to PC via USB cable, and play files in your PC via N15D with wonderful sound quality.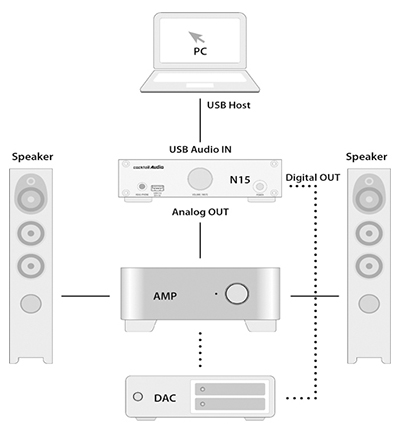 HiFi Network Adapter, Source Device, Music Storage & Player with Music Database for Existing Amplifier or DAC
N15D is a network streaming node designed for your existing DAC or Amplifier. It will give your existing audio systems wonderful networking ability.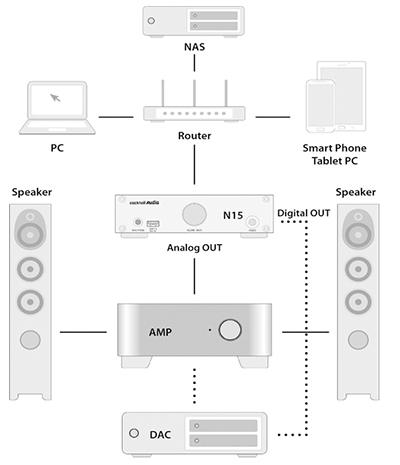 ---
Share this Product
---