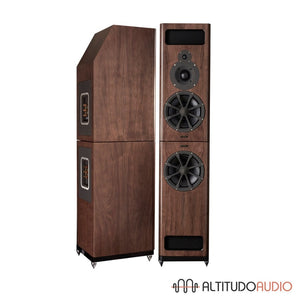 PMC
MB2 XBD SE Passive Floor-Standing Loudspeakers
Regular price
$60,350.00
$0.00
Unit price
per
Shipping : FREE in Canada
Please Contact Us To Order. Thank you.
PMC MB2 XBD SE
The PMC MB2 XBD SE Loudspeaker – Building on the state-of-the-art performance of PMC's high-end three-way reference monitors (IB2, MB2, MB2 XBD & BB5), the SE range combines the finest traditions of British cabinet-making and cutting-edge acoustic research and development techniques.
Music lovers can enjoy even greater levels of musicality while appreciating the aesthetic beauty of these special edition models. Meticulous attention has been applied to hone the designs to new standards, adding new internal bracing, computer-modelled driver dispersion surrounds, and custom-designed, specially tuned stands.
All these elements contribute to the production of a purer musical signal, allowing the listener to come as close as possible to the original performance.
Our larger SE models are available in both active and passive versions. With passive loudspeakers, the choice of amplification is left open; passive designs work optimally with a correctly specified amplifier. Active designs take loudspeakers to another level; the amplification is precisely tailored to the specific designs and power requirements of the speaker, and is directly coupled to the drive units for superior control and a more efficient transfer of energy.
This increases headroom and resolution, improves transient performance, and produces a more life-like, natural-sounding and more powerful speaker. Active systems can also be adjusted to suit customer taste and the individual listening environment by means of frequency controls – and to guarantee optimum performance in situ, they are always tuned by our factory-trained installation engineers.
About PMC
Founded in 1991 by Peter Thomas of the BBC and Adrian Loader of FWO Bauch. The combination of knowledge and a life-long passion for music led to the production of PMC's first product, the BB5-A, an active main studio monitor. This design was snapped up by the BBC Maida Vale and Metropolis Mastering and remains the world's reference, used by Prince, Stevie Wonder's Wonderland Studio, Hospital HDTV Broadcast London and for renowned classical labels such as Decca and Harmonia Mundi. Many of today's movie themes have been crafted using PMC, from such eminent composers as Henry Jackman, Thomas Newman, Tyler Bates and John Debney.
PMC are one of the very few companies who have been awarded an Emmy® for their contribution to recording excellence. With film, it would be easier to list the blockbuster movies which did not use PMC during the process of music production and post! But titles include: Titanic, Mission Impossible, Captain Phillips, Pearl Harbor, Game of Thrones – TV, Iron Man 1& 2, Skyfall, Spiderman 1,2,3 and Pirates of the Caribbean and many many more.
PMC reigns supreme throughout the leading mastering houses, broadcasters and much of the professional world.
 
We believe a good loudspeaker should be able to relay the purest intentions of the artist without colouration – The ideal solution for both studio & home.
SPECIFICATIONS:
Available Finishes: Walnut, Amarone, Oak, Jet Black Crossover Frequency:380Hz – 3.8kHz Dimensions:H 1740mm 68.5" (+ 50mm spikes) x W 380mm 14.96" x D 535mm 21" Drive Units:LF – 2 x PMC 12" 310mm Radial™ driver
HF – 27mm SONOLEX™ soft dome Ferrofluid cooled
MF – PMC75 SE – 75mm soft dome Effective ATL™ Length:2 x 3m 10ft Frequency Response:20Hz-25kHz Impedance:4 Ohm Input Connectors:3 pairs 4mm sockets (Tri-Wire or Tri-Amp) sensitivity:93dB 1w 1m Weight:116kg (255.7lbs)
Finish Options
All PMC SE Series Loudspeakers are available in the following four finishes:

---
Share this Product
---