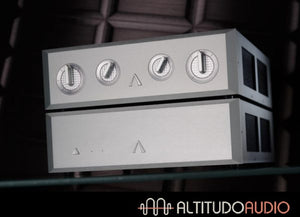 Aesthetix
AESTHETIX CALLISTO ECLIPSE TUBE LINE STAGE PREAMPLIFIER
Regular price
$26,781.00
$0.00
Unit price
per
Shipping : FREE in Canada
Please Contact Us To Order. Thank you.
Product Details
JUPITER ECLIPSE EDITION
Jupiter Series Io phono stage and Callisto linestage are available in (and factory upgradable to) an Eclipse Edition. The Eclipse transformation takes already industry standard setting products to a whole new level of performance. Io, Callisto and their respective power supply receive enhanced internal parts, improved chassis construction, and stunning customizable casework.
Stealthcap Capacitors
Musical signals passing through a capacitor are blurred or clouded as signal reflections bouncing off the capacitor plate corrupt the original musical signal. StealthCap capacitors created by Peter Moncrief aim to cure this problem by dramatically reducing reflections along the capacitor plate. The "Stealth Technology" is made possible by a combination of laborious precision handiwork and costly exotic materials including new conductors, dielectrics, and composite resins. The resulting signal has a quieter background, rich and detailed spatial imaging, time focused musical coherence, and a broader more impactful dynamic range. The Io Eclipse uses eight .22uF / 600v Stealth coupling capacitors made of exotic copper foil. These are used between the second and third gain stages, and the third gain stage and output stage. The Io and Callisto Eclipse output stages also use eight 4uF / 400v Stealth capacitors in a unique balanced configuration.
Chassis Construction
Eclipse Edition chassis feature an extremely rigid and acoustically damped design, delivering new levels of articulation and clarity. Three separate side and top panels are machined from aluminum billet. Each panel is constrain layer damped with advanced 3M adhesives, requiring a labor intensive application of heat and pressure for proper mating. Advanced interlock material and machine screws are used to attach the panels for easy tube access. Harmonic Resolution Systems Nimbus Couplers, specially made for Aesthetix, are used to intimately couple the chassis with the equipment rack, greatly reducing mechanical noise.
Casework Design and Customization
Eclipse editions feature a stunning multi-piece front panel which includes detailed machining of the front panel casing, inlay and logo. Jupiter Eclipse customers may personalize the appearance of their unit by selecting metal finishes for the faceplate, rings, knobs, dials and logo. Use our interactive online tool to design your own Io or Callisto Eclipse.
---
Share this Product
---