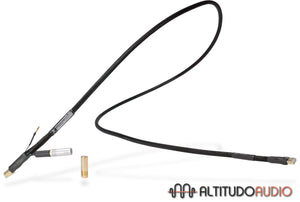 Synergistic Research
Atmosphere SX Reference Ethernet Cable
Regular price
$1,144.00
$0.00
Unit price
per
Shipping : FREE in Canada
Atmosphere

 

SX

Reference Ethernet
The new Atmosphere X Reference Ethernet, like it's little brother, is voiced to deliver natural musicality so you'll enjoy listening for hours, even when streaming on Tidal and Spotify, with no loss of resolution or soundstage scale and realism. To this end, our highest performance Atmosphere X Reference Ethernet cable comes equipped with a ground plane running from tip to tip for a lower noise floor. Engineered to work with included Blue and Red UEF Tuning Circuits you fine-tune the sound of your system from precise detail and air when using the Blue circuit, to musical warmth and liquidity when the Red circuit is connected, just select the option that sound's most neutral in your system. Other design features include UEF Graphene Shielding, a new conductor alloy, the new Atmosphere X Shielding Matrix, and a new conditioning process first developed for our Blue Fuses. The sum of these design decisions has created an Ethernet cable that sets a new standard for ultra resolution and holographic scale combined with a fatigue-free emotional connection to your favorite music.
UEF Ground Plane
Optimized performance.
Atmosphere SX Digital interconnects incorporate the capability to ground your cables to either a wall outlet with the included SR Ground plug or to a Synergistic Research Ground Block (sold separately) to elevate the performance even further.  Benefits include a noticeable increase in deep bass power and weight, a more holographic sound field, smoother high frequencies with greater extension and 'air', a more present and layered mid-range, increased tonal density with an apparent increase in resolution.
Quantum Tunneling
SRX Long Duration High Voltage Conditioning.
After perfecting the most natural-sounding and holographic cables in our history, we set out to take them further with a new high voltage conditioning process that applies a sweeping frequency plot for an extended duration. We experimented with dozens of frequencies in different combinations over a prolonged time period before landing on just the right mix. We even built a new Tesla Coil to handle the excess heat generated during long conditioning sessions. Once finalized, the SRX conditioning process created holographic realism and timbrel accuracy far beyond our previous Tesla Coil conditioning protocol. 
+ included 

Gold and Silver SX Tuning Bullets
Redefining refinement.
We've completely reformulated and re-voiced our Galileo Tuning Circuits with new technology originally designed for the new ultra-resolution and musical Galileo SX line of cables. Now Silver Bullets have more detail combined with greater warmth than the prior Galileo Silver Bullets while the Gold Bullets impart even greater musicality and liquid smoothness with a touch more air and detail than before. For best results, it is recommended that you first allow any Synergistic Research cable to settle into your system for 72 to 96 hours without removal or handling and without Gold or Silver Bullets attached. Then listen first with Gold, and then with Silver bullets, and pick the option that makes the best music in your system.
Atmosphere Excite SX provides the RED UEF Tuning module while Atmosphere Euphoria SX  comes equipped with both the RED and BLUE UEF Tuning Modules.
Gold Tuning Module's Sonic Characteristics:
Greater Musicality
Greater Liquid Smoothness
Air and Detail
Silver Tuning Module's Sonic Characteristics:
Greater Air and Detail
Musicality
Liquid Smoothness
Atmosphere
 

SX

 

Reference Ethernet Specifications:

 
Atmosphere
 

SX

 

Reference Ethernet Build Notes:

 
8 each UEF CAT 7:
23 gauge solid copper conductors
Dielectric: Solid Polyethylene
Maximum Frequency: 500 MHz
Shielding: Silver Mylar -Quantum Tunneled Ground Plane Technology
Geometry: 4 twisted pair
Listened for signal direction before build
Hand crafted in our California factory
 Build Notes:
16 point-to-point hand crimped connections
Atmosphere SX UEF Graphene Shield: 2 different UEF coatings with Graphene are applied to connectors and cabling and ground significantly reducing the noise floor and allowing a purer signal to transfer with less grain providing more warmth and detail. The conductors and ground plane also benefit from dampening effect that UEF provides
Q

uantum Treatment: After the cable is completely assembled all connections and cabling are treated with 1,000,000 volts of electricity at specific frequencies and pulse modulations, creating a canal in the conductor material and contact points at the molecular level that allows electrons to flow more freely. This allows the maximum amount of low level information through the conductors and provides for the highest amount of realism in your music

Secondary UEF Blue Treatment originally developed for SR Blue Fuses
UEF Ground Plane Termination
1 Termination for Atmosphere tuning Module (Red

 

and

 

Blue)
Hand build time: 2.5 hours
5 day Burn-in: 2 step process
Hand crafted in our California factory
SR Ground Block (optional):
Atmosphere
SX
Ethernet Interconnects have shields that can be grounded direct to earth with supplied ground cables bypassing your component's power supplies for a lower system noise floor.
To improve performance further still use an optional SR Ground Block with its UEF Ground Filter to elevate overall system performance; not only can you star ground and UEF filter the shields on all Galileo UEF interconnects and speaker cables in your system, but can also ground all of your system's components to the Ground Block for a dramatic lowering of your system's noise floor for greater detail, clarity and musicality.
---
Share this Product
---