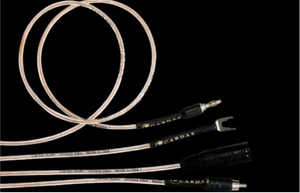 Cardas Audio
Ground Cable
Regular price
$114.00
$0.00
Unit price
per
Shipping : FREE in Canada
Performance
Grounding issues between components leads to noise and hum. A central
grounding point eliminates these problems, leading to greater dynamics,
improved spatial imaging, and a lowering of the noise floor – especially in
environments with an excess of radio frequency and electromagnetic interference.
Cardas 17.5 AWG multi-stranded Litz conductor Ground Wires are ideal for use with
the Cardas Nautilus Power Strip. A Cardas CAB Banana connects to the 4mm jack
next to the IEC on the Nautilus. Several Cardas Ground Wires can be attached
to the CAB Banana, and from there, to unused line-level connectors on your equipment
(ie, an RCA or XLR jack). In addition, some audio equipment has ground points to
which a spade can be attached.
Every sound system is unique, and Cardas Ground Wires can be purchased individually, or in sets. Any length is available, and Cardas Ground Wires are available with nearly any possible connector, allowing you to create a custom loom for grounding your system.

Standard Termination: Spade, Banana, XLR, RCA. Terminations will depend on your
equipment's available connection points and the central grounding point that you're using.
To use the Nautilus Power Strip as your central ground point we suggest a Cardas CAB to which a single banana and up to three spades can be attached.
Cardas Ground Wires are compatible with other makes of ground boxes that use spade or banana connectors.
Refer to the manufactures of your equipment if you have any question on how to properly attached a ground point.

Design/Construction
Conductors: Grade 1, 99.9999% pure oxygen free copper with SPN clear coat (Litz), gauge sizes scaled to Golden
Ratio proportions. Cross-field layer geometry, insulated in a clear PVC jacket.
Gauge: 1×17.5 AWG
Outside Diameter: 0.173"/4.40mm
---
Share this Product
---