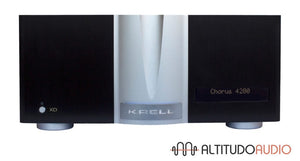 Krell
Chorus 4200 XD Multi-Channel Amplifier
Regular price
$12,055.00
$0.00
Unit price
per
Shipping : FREE in Canada
The Chorus 4200 uses the same circuitry, including the Class A iBias technology, built into all of the iBias amplifiers. The Chorus 4200, 200w into 8 Ohms, is our first four channel amplifier and is a response to the many requests we received for a four channel amplifier for a variety of applications.
1. Partner to the Chorus 5200 and Chorus 7200 for use in Dolby Atmos, dts:X, and Auro 3D capable home theatres.
2.  It can also be used to bi-amp a pair of speakers in an audiophile two channel system.
3. In the US, dealers asked for this configuration to use as a high powered Class A amplifier to drive two pairs of outdoor or architectural speakers in a high end distributed audio system.


Created specifically under the demands of eager advanced users to configure surround sound systems very high performance and incorporating the latest in multi-dimensional sound -Dolby Atmos, Audo-3D and DTS: X-, the Chorus 4200 is a power Four-channel benefits from the latest advances in Krell amplification audio signals without compromise. Equipped with the same circuitry and the same technological refinements that her sisters aged five and seven channels, ie, models Chorus Chorus 5200 and 7200 respectively, the Chorus 4200 is an ideal tool for driving, for example in a configuration 5.1.4 Chorus 5200 or a type 7.1.4 with loudspeakers Chorus 7200- "ceiling" associated with the new multidimensional surround sound, but also for amping the speakers of a stereo system. It is based on the revolutionary concept Ibias, extremely innovative technology that combines sound amplification sweetness Class A with a power consumption substantially lower than those based on traditional electronic version of it. Exclusive Krell, the key technology is Ibias which eliminates crossover distortion, allowing low-level details, the timbral subtleties and spatial music play exactly like a set in the Class A amplifier traditional way.


To explain the operation of Ibias should know that Class A amplifiers eliminate crossover distortion (which occurs when an audio signal changes from positive to negative polarity) transistors by always running at full power, so So never "turn off". Any power that is not needed to drive the speakers is removed through the heat sink of the amplifier. In an amplifier circuit Ibias continuously measuring the current flow is in the output transistors (responsible for amplification of current / power) and adjusted instantly according to the demands of the same is used. Never power transistors are "turned off", yet there is very little power is dissipated as heat. Thus, not only it is achieved that the amplifier consumes less power -the power available is 200 watts continuous channel into 8 ohms accompanied by high current handling capacity of Krell-, but less hot, and at Therefore, it can use more compact chassis. On the other hand, the Chorus 4200 has a number of features that make it particularly useful for use in custom equipment - "custom" - very high level. Thus, in addition to its inherently superior energy efficiency, including low noise fans thermostatically controlled, what practical Internet connectivity that allows the specialist / dealer installer monitor the operating status of each unit in order to keep it adds perfect condition, update or detect / correct faults. Chorus 4200 also includes balanced and unbalanced inputs, to which the widespread use such as sum is standard Krell- audiophile grade components.
Frequency response
20 Hz to 20 kHz +0, –0.08 dB
<0.5 Hz to 100 kHz +0, –3 dB
Signal-to-noise ratio
>95 dB, wideband, unweighted, referred to full power output
>115 dB, "A"-weighted
Gain
26.2 dB
Total harmonic distortion
<0.04% at 1 kHz, at 200 W, 8 Ω
<0.15% at 20 kHz, at 200 W, 8 Ω
Input impedance
Single-ended: 100 kΩ
Balanced: 200 kΩ
Input sensitivity
Single-ended or balanced: 1.96 V RMS
Output power 200 W RMS at 8 Ω
360 W RMS at 4 Ω
Output voltage
113 V peak-to-peak
40 V RMS
Output current
13.4 A peak
Slew rate
40 V/μs
Output impedance
<0.015Ω, 20 Hz to 20 kHz
Damping factor
>530, 20 Hz to 20 kHz, referred to 8W

Power consumption
Standby: 1 W
Idle: 145 W
Maximum: 1680 W
Heat output
Standby: 3.4 BTU/hr.
Idle: 530 BTU/hr.
Maximum: 6276 BTU/hr.
Inputs
4 single-ended via RCA connector
4 balanced via XLR connector
Outputs
4 pairs binding posts
Dimensions
17.1 in. W x 7.65 in. H x 21.10 in. D
434 mm W x 194 mm H x 536 mm D
Weight
88 lbs., 40 kg (shipping)
78 lbs., 35 kg (unit only)
---
Share this Product
---