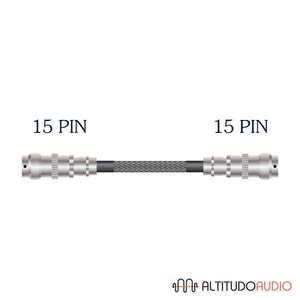 Nordost
Nordost Tyr 2 Speciality 15 Pin Cable
Regular price
$4,617.00
$0.00
Unit price
per
Shipping : FREE in Canada

Tyr 2 Specialty Cables are the solutions that NAIM® and CH-PRECISION® owners have awaited for decades: a path to upgrade their highly coveted components. Using Nordost's patented technology and design philosophy, Tyr 2 Specialty Cables will provide a transformative improvement to NAIM® and CH-PRECISION® electronics.
Each Tyr 2 Specialty Cable is custom-made to fulfill its function as dictated by your system's needs, whether that be to deliver signal, power, or both. Regardless of the use, the combination of high purity, 18 AWG silver-plated, solid core conductors, Nordost's proprietary Micro Mono-Filament technology, and FEP insulation, all cut to precise, mechanically tuned lengths, results in a variety of cables that promise to elevate the components that you love. Integrate Tyr 2 Specialty Cables into your system, and hear it as you never have before.
Tyr 2 Specialty Cables are available in various configurations and terminations to suit a variety of components. 
Specifications
15 x 18 AWG silver plated 99.99999% OFC solid core conductors
Fluorinated Ethylene Propylene (FEP) insulation around each conductor
micro mono-filament design
mechanically tuned lengths
shielded with 97% braid
full metal jacket, BURNDY style connectors w/screw machine contacts and gold plated pins
---
Share this Product
---