SVSound - SVS
Prime Wireless Pro Speaker System (Pair)
Regular price
$1,125.00
Sale price
$1,470.00
Unit price
per
Shipping : FREE in Canada
PRIME WIRELESS PRO POWERED SPEAKER PAIR
Breathtaking wireless sound from a powered stereo speaker pair. SVS Prime Wireless Pro delivers immersive, reference-quality sound via a vast array of connectivity choices with a user-friendly control interface.
Stream High-Resolution audio wirelessly via WiFi, Apple Airplay 2 for iPhones and iOS, and Chromecast for Android phones and other devices. Connects directly to your TV via HDMI and features ample connectivity and control options. 200-watt (50 watts x 4) amplifier and precision-tuned electronic crossover deliver powerful dynamics, deep bass, and stunning clarity.
With SVS Prime Wireless Pro, we weren't content with making the best sounding wireless speakers, but rather a solution that competes with the finest sounding speakers of any type well beyond their price. Couple that with an amazing user interface and versatile connectivity options and Prime Wireless Pro appeals to anyone who loves convincing, immersive sound.
Sporting a potent 200-watt (50 watts x 4) amplifier, 192kHz/24-bit DAC, and precision-tuned digital crossover; the speakers deliver powerful dynamics, deep bass, and pristine clarity for all your content.
Audiophiles will love that it streams lossless High-Resolution audio wirelessly via WiFi, Apple Airplay 2 for iPhones and iOS, and Chromecast for Android phones and other devices. Enjoy the best quality sound from all your streaming services with no compromises. It's also Bluetooth-enabled.
For use as a superior-sounding soundbar replacement or compact home theater system, SVS Prime Wireless Pro Powered Speakers connect directly to a TV via HDMI with ARC/eARC. Additional devices can be connected with line level, optical, 3.5mm AUX, and ethernet inputs. Plus, a subwoofer output for deeper, heart-pounding bass.
Bringing it all together is easy control via the smartphone and desktop app, IR remote, voice commands, and a data-rich front panel interface with loads of unique features.
Finally, wireless audio meets the Sound Revolution.
WIRELESS HIGH-RESOLUTION STREAMING MADE EASY
TRANSCENDENT SOUND FOR THE MODERN AUDIOPHILE
Inspired engineering breeds reference performance as the SVS Prime Wireless Pro Powered Speakers are challenging the notion that wireless audio is just for background music. The future of HiFi is here.
TRUE 2-CHANNEL AUDIO FOR CONVINCING AND IMMERSIVE STEREO SOUND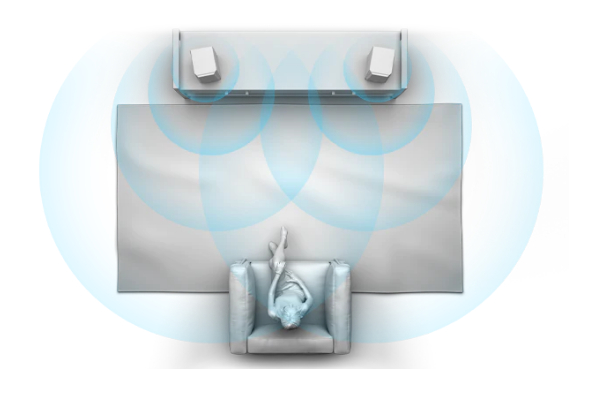 Left/Right powered speaker setup delivers true stereo sound with punchy dynamics, massive soundstage, and pinpoint imaging.
High-Resolution Audio over WiFi enables lossless streaming for the most discerning audiophiles.
200 WATT (50 WATTS X 4) AMPLIFIER FOR MASSIVE DYNAMIC OUTPUT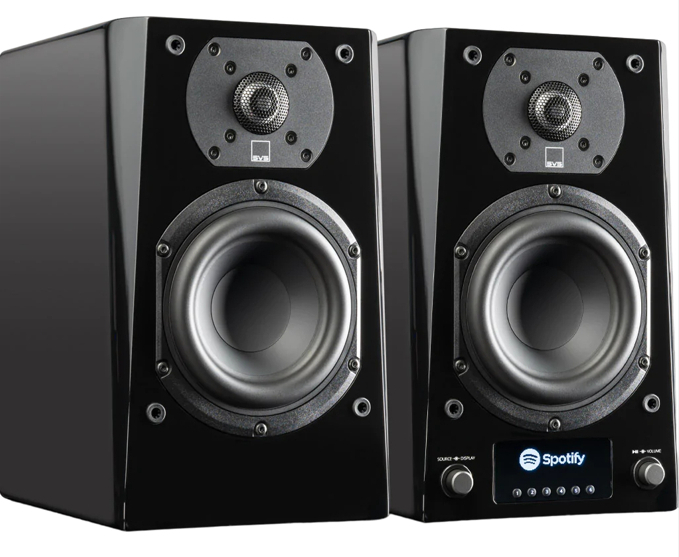 Potent Class-D amplifier delivers 50 watts to each woofer and tweeter for effortless power and room-energizing slam and impact with revealing clarity. Plays crystal clear even at high volumes with output that far exceeds the cabinet size.
DIGITAL ELECTRONIC CROSSOVER FOR REFINED AND DYNAMIC SOUND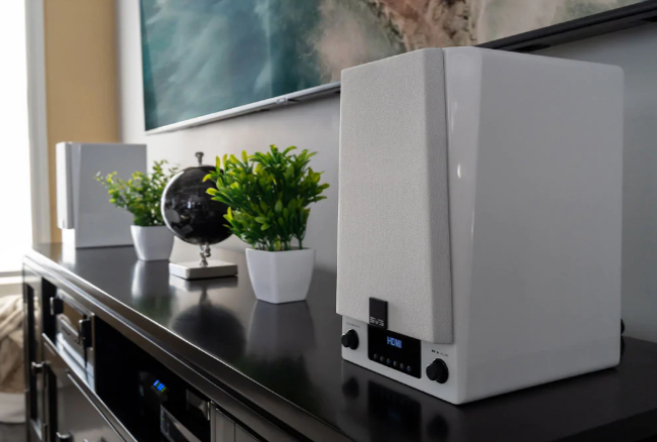 Maximizes performance of each driver by controlling power delivery and frequency response with absolute precision. The result is pinpoint transient speed and massive dynamic output that belies the compact cabinet size.
ACOUSTICALLY OPTIMIZED 1" ALUMINUM DOME TWEETER
Renders crystal clear highs with lifelike realism, the tweeter's airy presentation reveals every sonic detail with pristine clarity and pinpoint accuracy. An FEA-optimized diffuser ensures broad dispersion for a wide and convincing soundstage.
HIGH-OUTPUT 5.25" MID-BASS DRIVER
The majority of audio content in music and movies is present in the mid and low frequencies so it's imperative to have a driver capable of producing slam and impact with refinement. Lightweight yet stiff driver materials in the mid-bass driver deliver effortless and unveiling sound with flawless tonal accuracy and chest-thumping bass.
192KHZ/24-BIT DAC FOR HIGH-RESOLUTION STREAMING OVER WIFI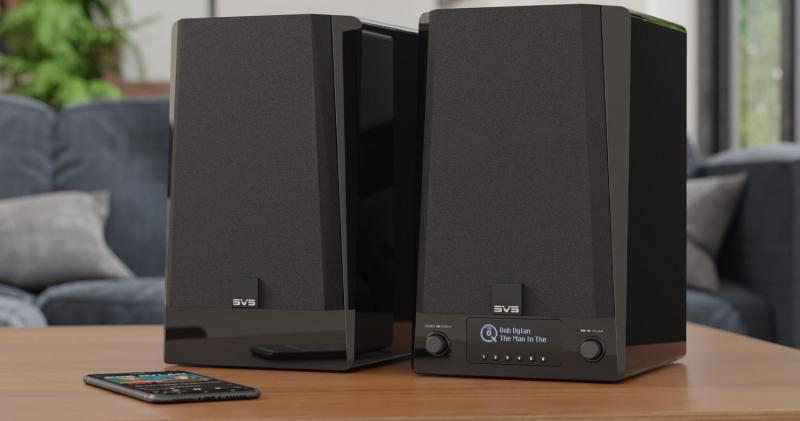 Sophisticated digital-to-analog converter renders the highest quality playback from all streaming services and connected devices.
VERSATILE CONNECTIVITY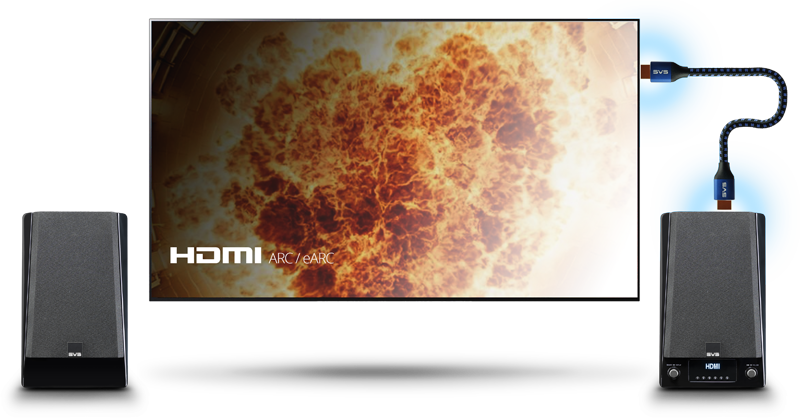 HDMI input with ARC/eARC for High-Resolution stereo sound from your TV
Line level, optical, 3.5mm AUX, and ethernet inputs for connecting to a wide range of devices
Subwoofer output for deeper, heart-pounding bass
SMART AND SEAMLESS CONTROL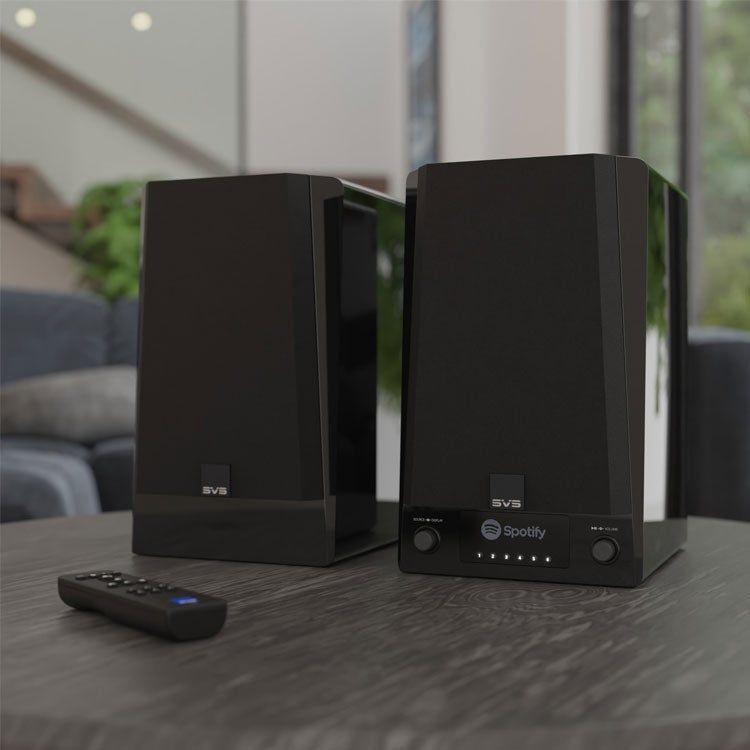 Native control via Apple Airplay 2 for iPhone and iOS, Spotify Connect, & Chromecast for Android phones and Devices
Smartphone, tablet, or PC control with the DTS Play-Fi app
Data-rich front panel user interface
IR Remote
Alexa, Siri, Hey Google voice commands via supported devices
6 custom presets for instant access to playlists, streaming music services, and more with touch of a button
Multi-room/Whole Home Audio compatible with all DTS Play-Fi enabled products
CUSTOM PRESETS FOR YOUR FAVORITE CONTENT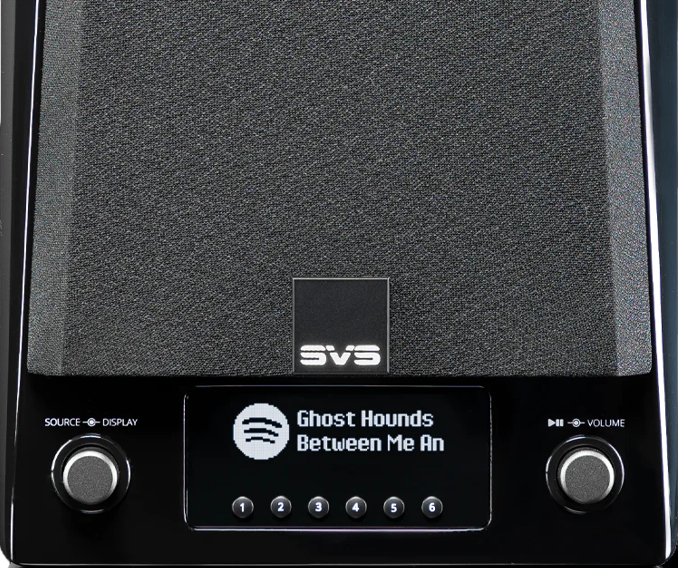 6 custom preset buttons on the front panel and remote provide instant access to your favorite podcast, playlist, streaming station, or other content, with a single touch.
PERFORMANCE DRIVEN CABINET DESIGN
Tapered edges on the speaker's front baffle, known as chamfers, minimize edge diffraction for a broad soundstage with precise imaging. Rigid internal bracing and optimized cabinet geometry ensure accurate response at any drive level.
SPECIFICATIONS:
Frequency Response / Acoustic Data:

 

Frequency Response: 42Hz - 25kHz (±3 dB)
Active Speaker Cabinet Dimensions:

295mm (H) X 180mm (W) X 228mm (D)
11.61" (H) X 7.09" (W) X 8.96" (D)

Passive Speaker Cabinet Dimensions:

295mm (H) X 180mm (W) X 225mm (D)
11.61" (H) X 7.09" (W) X 8.85" (D)

Weight:

Active Speaker Weight Unboxed: 12.3 lbs (5.58kg)
Passive Speaker Weight Unboxed: 11.68 lbs (5.3kg)

Driver Specs (1" Aluminum Dome Tweeter):

FEA-optimized diffuser for airy and unveiled presentation
Aluminum dome for exceptional transient response

5.25" Mid-bass Driver:

Polypropylene cone for excellent stiffness/mass ratio and pistonic behavior
Aluminum shorting ring to reduce gap inductance, lower distortion, and enhance high-frequency response
Cast ABS-fiberglass composite basket ensures precision component alignment and excellent thermal transfer
Vented voice coil former minimizes air compression artifacts

Amplifier Specs:

Dual Class-D Power Amps for Discrete Driver Bi-amplification
200 watt (50 watt x 4) RMS Power
Digital controlled tweeter-to-woofer crossover: 2kHz (12dB/octave slope)

Speaker Cabinet Specs:

2.36" wide-flared rear-firing port
Protective cloth grille with pin/cup retention system
Elastomer stick-on bumper feet (adds 3mm to height)
Acoustically transparent and FEA optimized grilles minimize diffraction
FEA-optimized cabinet and bracing eliminates resonances
Chamfered front baffle and flush-mounted drivers reduce edge diffraction and improved on-axis high-frequency response

Wireless Streaming Option:

DTS Play-Fi - Lossless 192kHz/24-bit via Critical Listening Mode over WiFi
Apple Airplay 2 for iPhone and iOS Devices, Chromecast for Android phones and Devices: CD Quality
Bluetooth 5.0 with AAC and aptX
Spotify Connect

Input Specs:

HDMI audio input. Supports ARC and eARC
Left/Right RCA Input: Input Impedance: 20K
3.5mm Aux Input: Input Impedance: 20K
Toslink Optical Input: S/PDIF receiver works at a wide range of sampling frequencies up to 96kHz
Bluetooth 5.0 with AAC and aptX
6 front panel presets for one-touch access to music services and playlists
Ethernet
USB service port also for powering wireless accessories: See SoundPath Wireless Audio Adapter

Output Specs:

Subwoofer Output: 2V MAX - Auto Detecting Low Pass Filter: Activates Low Pass Filter at 80Hz on the speakers when subwoofer detected
Ethernet

General Specifications:

3.15" wide Front Panel OLED display: Displays Source, Artist Name, Song Title, Volume, and Rich metadata from Wi-Fi and Bluetooth audio sources
Switch Mode Power Supply: Auto Switching 100 - 120V / 220 - 240V, 50/60Hz
Fuse: 15A/250V
Detachable Power Cord
IR Remote control and 2 AAA batteries included
8 x Elastomer stick-on bumper feet included
Active-Passive Speaker Interconnect Cable: 3m / 10ft Included
---
Share this Product
---